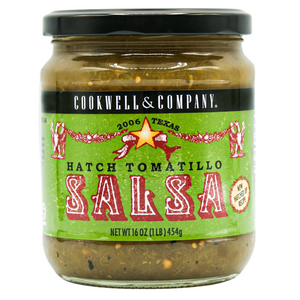 Hatch Tomatillo Salsa
Cookwell & Company
Award-winning. All natural. A true green salsa. Long known as the Mexican green tomato, the tomatillo is a staple in all authentic verde salsas. The true secret to bring out the full flavor of tomatillos is in how you cook them. We not only cook them, we slow roast them over an open fire - giving our salsa that one-of-a-kind flavor experience you've been looking for in an authentic green salsa. We combine our roasted tomatillos with a blend of garden-fresh cilantro, onions and Hatch green chiles to create an intensive flavor with a mild bite we're sure you'll enjoy! 
Perfect on grilled chicken with a dollop of sour cream, or on your taco salad as a dressing.
Product Description
Ingredients
Roasted Tomato, Green Chile (Green Chile, Salt, Citric Acid and Calcium Chloride), Water, Roasted Tomatillo, Roasted Onion, Chicken Broth (Water, Chicken Base, Cooked Chicken and Chicken Juices, Salt, Sugar, Maltodextrin, Chicken Fat, Onions (Dehydrated), Citric Acid, Turmeric, Natural Flavors), Corn Flour (Specially Ground and Dehydrated Whole Kernel Corn and Lime), Cilantro, Garlic, Roasted Serrano, Sugar, Vinegar, Lime Juice Concentrate, Salt, and Spices.